█
Product description
The JSA-8TSOAX500 series wind-resistant ball-type turntable system is a remote day and night monitoring product developed by our company for border monitoring, coastal defense monitoring, shipboard monitoring, forest fire prevention, Haihe waterway, water conservancy projects, etc. It is designed and produced using military technology and has high precision Positioning, anti-strong wind, anti-seawater corrosion performance; used in harsh environments, the image can maintain high-definition stability, no jitter; small maintenance and long service life. The JSA-8TSOAX500 series system integrates the leading opto-electromechanical technologies in multiple industries, integrates precision heavy-duty power system, infrared thermal imaging technology, infrared fogging imaging technology, sealing and metal anti-corrosion technology, and is designed for special applications.
JSA-8TSOAX500 series products have a near-global appearance, thick structure, and very good wind resistance. No matter in the windy environment or in the process of movement, the image can always be stable, without jitter and no jamming, and the image does not jitter or shake when starting and braking. In addition, the imaging system is embedded with optical and electronic 3-level fog-passing functions, which can reasonably select the fog-passing level according to the severity of the fog and haze weather. The whole machine adopts high-strength aluminum alloy material, designed according to IP66 protection grade, multiple protection measures such as lightning and surge, intelligent temperature control system and strong heat dissipation channel. It is almost maintenance-free under normal outdoor conditions and is very suitable for long-term low Real-time monitoring of slow and small targets.
█ Features
= Resistant to hurricanes, the image can remain stable in a 40m/s hurricane;
= Surge protection and anti-lightning protection, effective anti-radar 6KV/3KA;
= Energy-saving design, suitable for power supply environment such as solar energy;
= Large-size high-definition visible light image sensor, star-level imaging sensitivity;
= Global body design with compact structure, low slewing clearance and fine operation;
= Anti-freezing design of rotating parts, no freezing or blocking in cold and wet weather;
= Dynamic intelligent noise reduction technology, no image noise in low light environment;
= Adopt precision heavy-duty power system, stable operation, responsive and accurate positioning;
= The body is made of high-strength aluminum alloy material, with three-proof and IP66 protection design;
= Optional 1080P~4K camera and 384/640 thermal imaging movement or 20~5000 meters laser integration.
= PTC variable power heater, the lower the temperature, the greater the power, adapt to extreme cold weather。
g Dimensions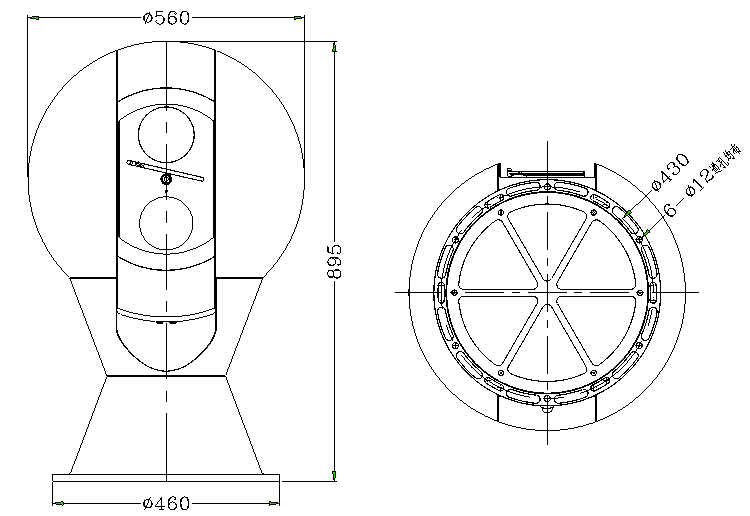 g Specifications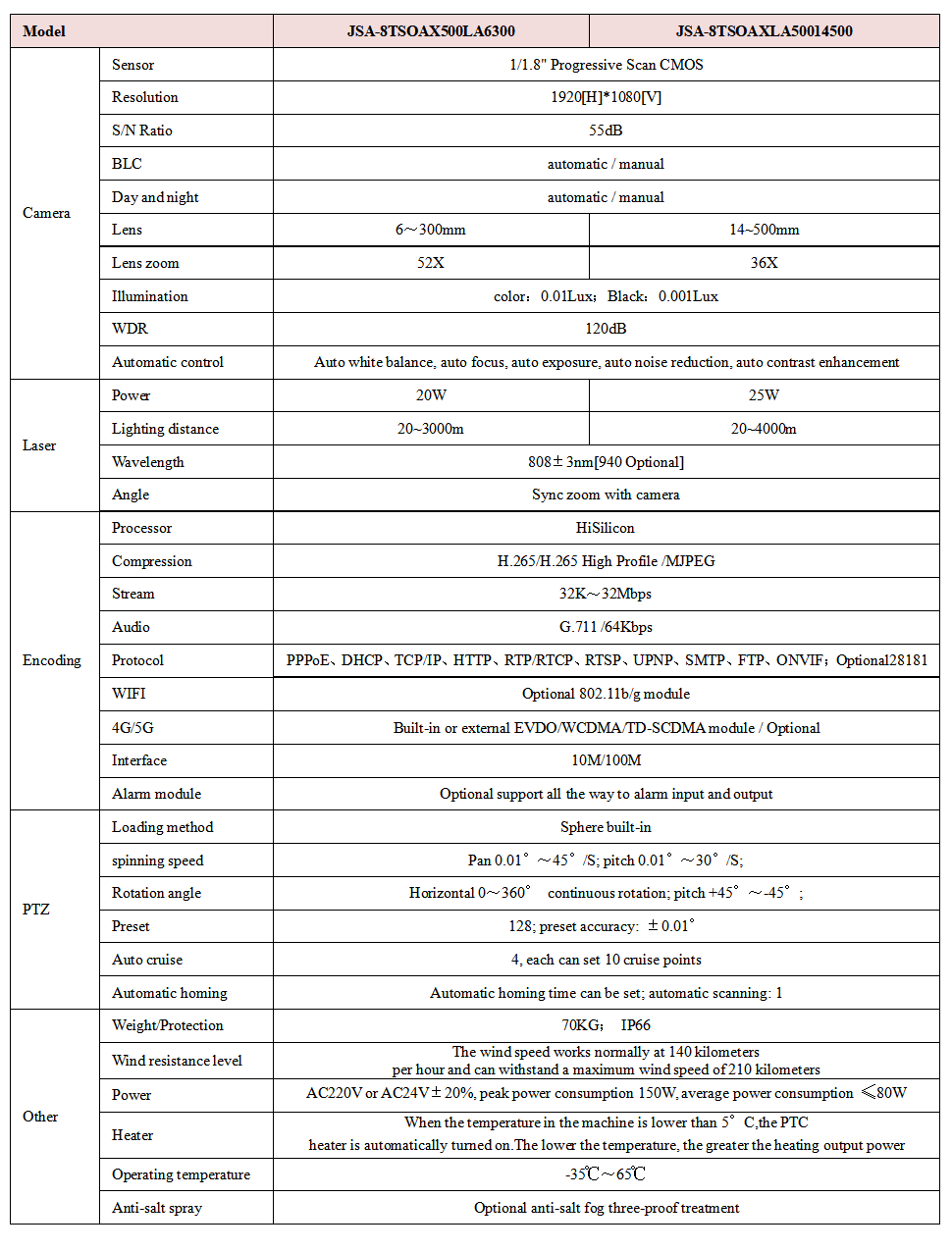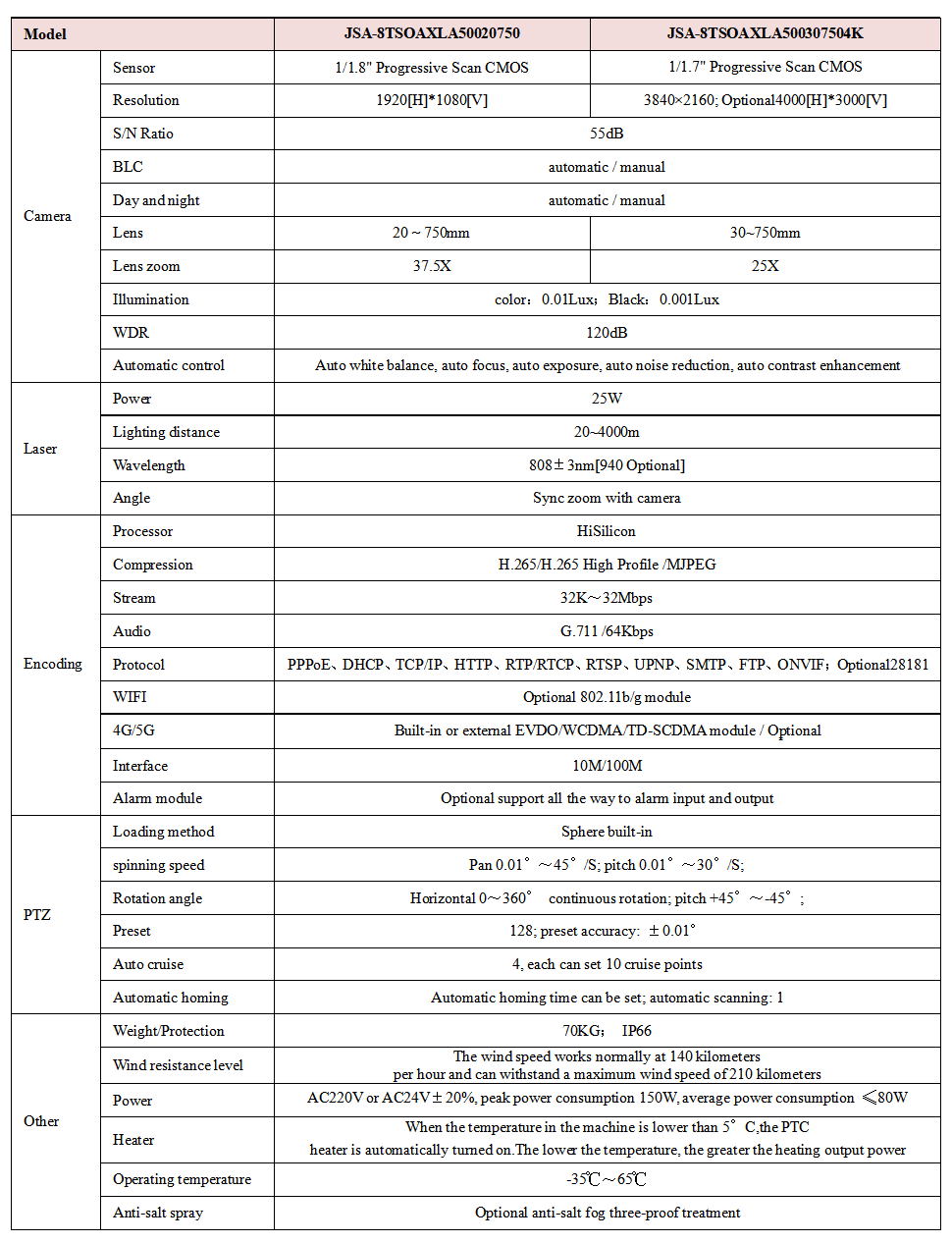 g System applications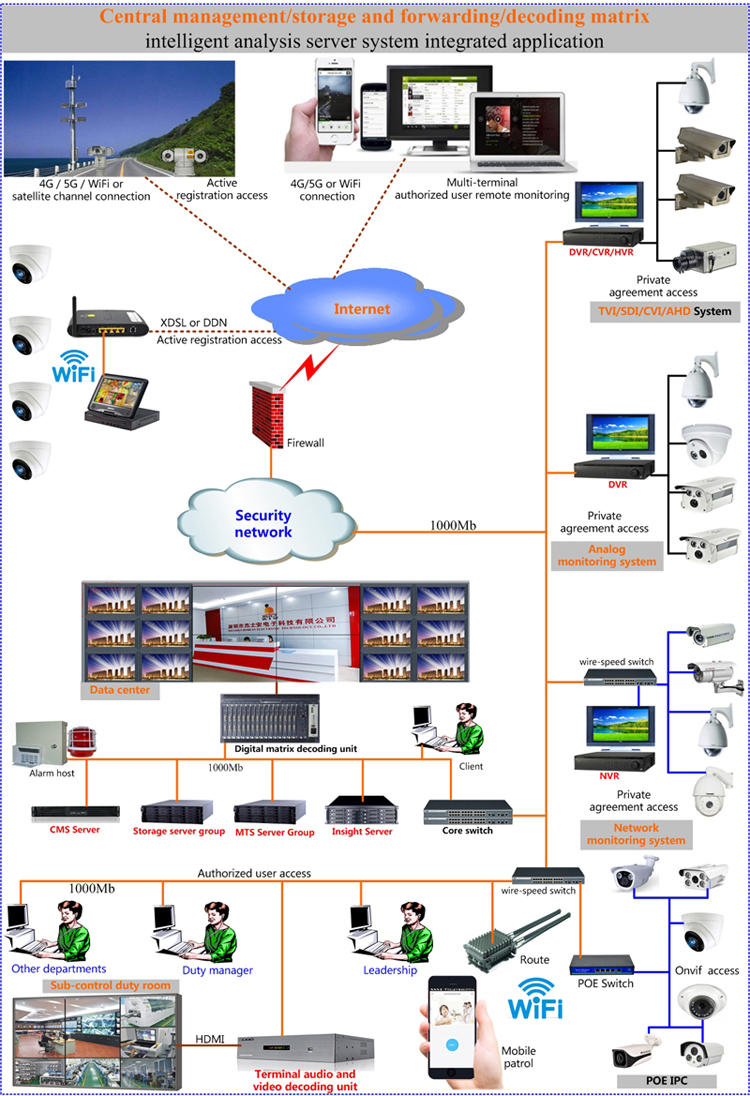 g Jiesan Company's main product line list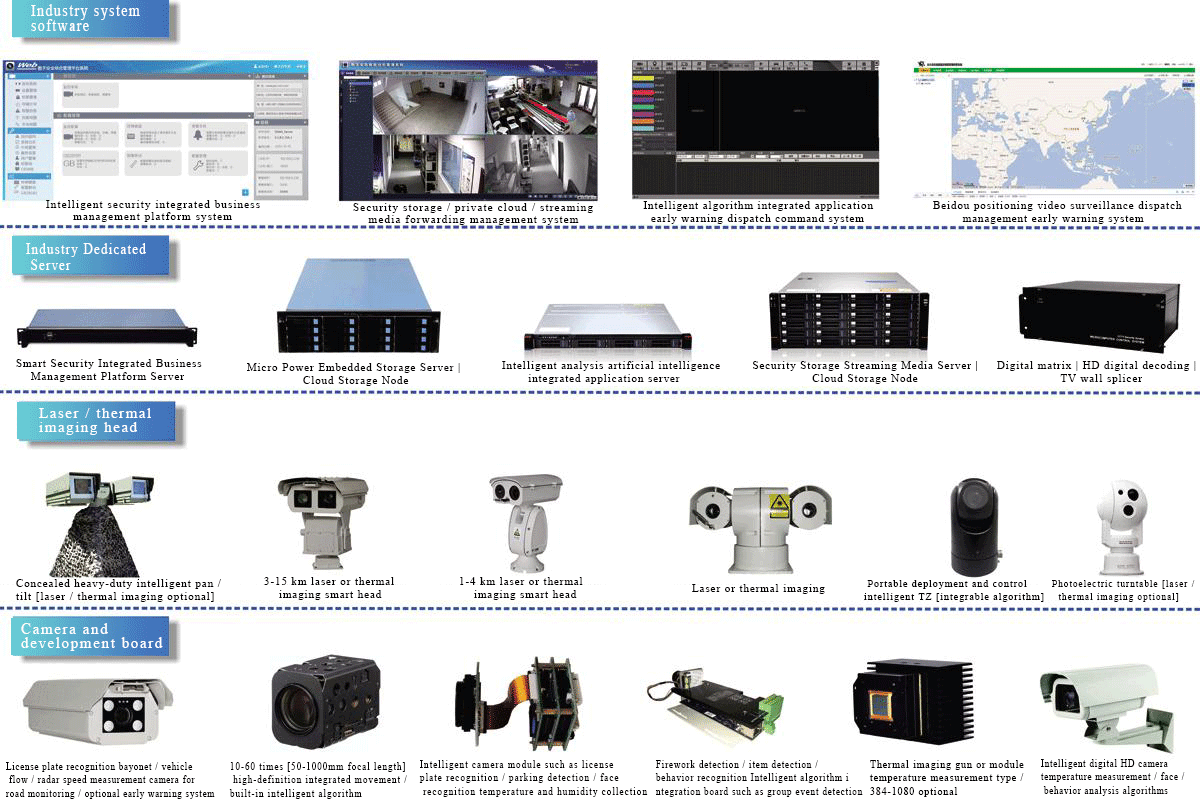 g Main application product line application scenarios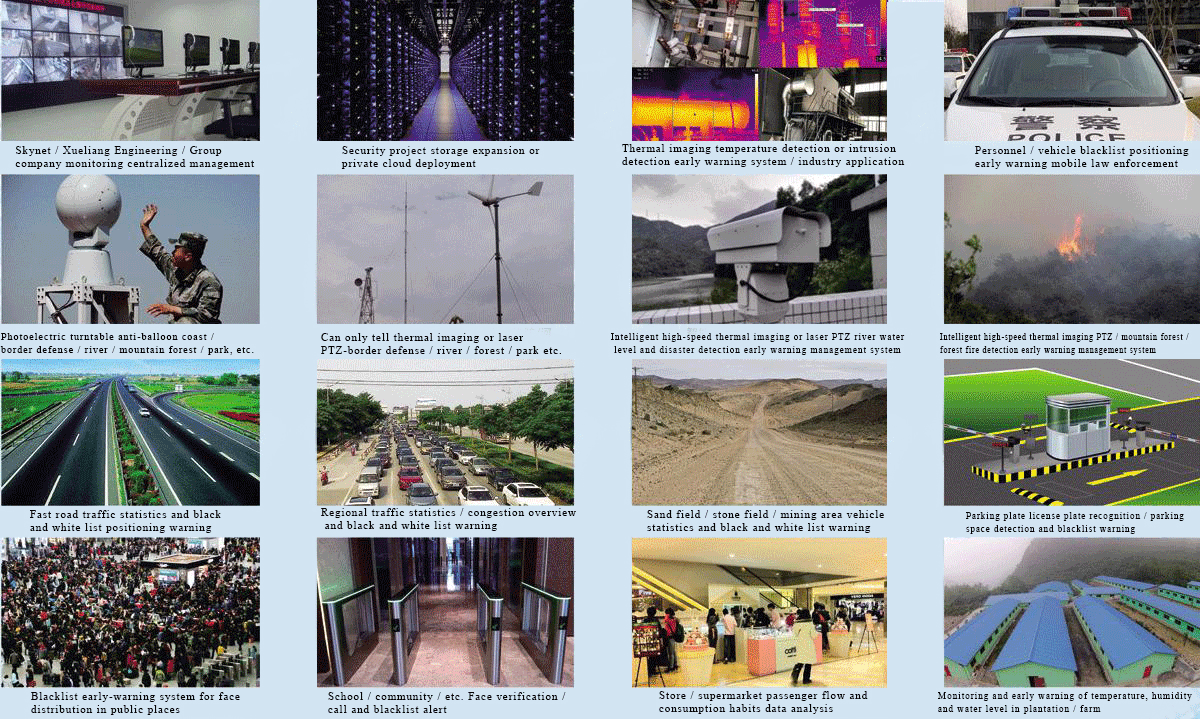 15 years[2005~2020]Industry accumulation Focus on specialty and create quality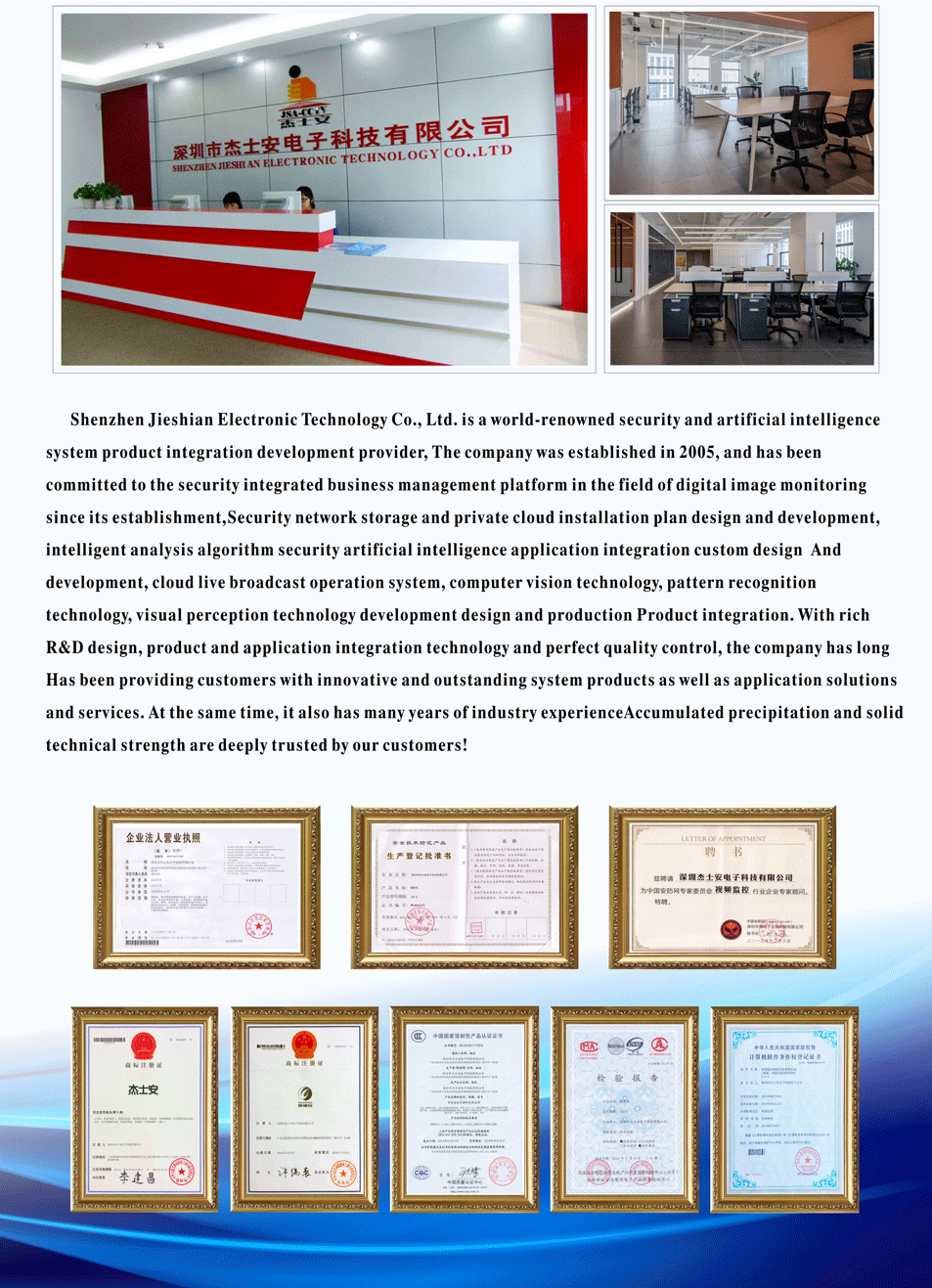 g Related products
ptz camera,ptz camera 30x,ptz camera outdoor,ptz,ptz poe,ptz ip camera,ptz camera 5mp,ptz ip camera outdoor,ptz wifi ip camera,ptz camera auto tracking