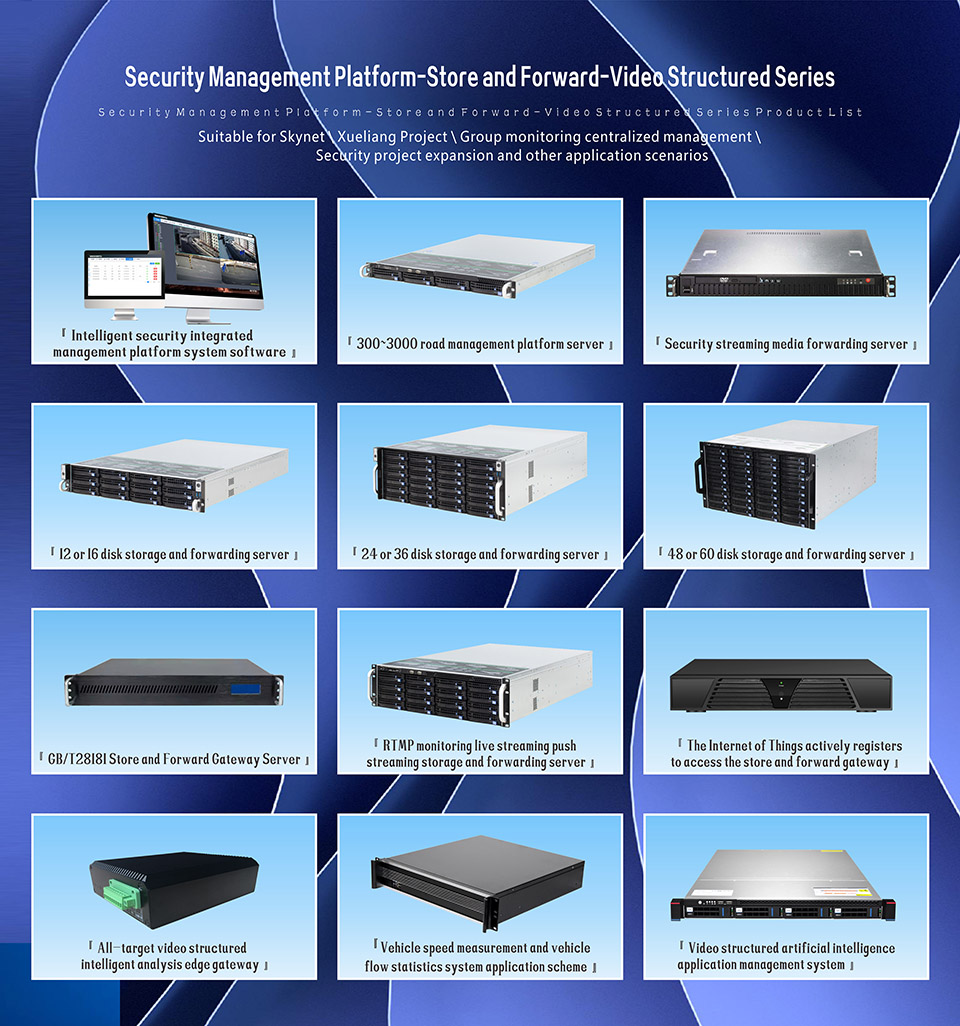 JSA-6NVRLCMS series of central management server is an essential part of the monitoring system,can be fine and perfect system management,centralized management of massive front-end equipment,storage devices,decoding matrix on the wall and other equipment to support multi-level server cluster,To provide customers with a comprehensive security management system.
[ product features ]
« Professional management platform software
Embedded professional DSMS operating platform system software,the administrator can focus on the entire system to set the front-end equipment parameters,storage strategies,electronic maps,user rights and other system parameters,and then achieve unified management of resources,management;
« Stable operating system
Based on the Linux operating system,the use of high-performance 64-bit processor and cache,perfect system docking,so that other systems access,combined with more simple and stable,so that the system more efficient use in monitoring projects;
« Centralized management is powerful
(Video channel,data signal,etc.),video streaming forwarding policy management,and so on. It can be used to manage the traffic management of the centralized monitoring center,including the management and setting of the centralized monitoring center management platform. Set up;
« Support multi-level server cluster,cascade
Support large-scale monitoring of video access,you can achieve clustering and cascading to facilitate the large-scale use and expansion of the system,the system architecture is more stable;
« Support for adding user administrators and permission assignments
Support the management of multiple system user groups and multiple user roles,multiple operations management authority can be freely assigned to different roles and users
« Support alarm management and video linkage
Supports a variety of alarm information such as motion detection,signal loss,I / O alarm,and video masking,such as IPC,NVR or alarm host,to realize the alarm source,alarm event,receiving object and alarm type Management and query,support alarm linkage video;
« Support ONVIF / GB28181
The system supports ONVIF protocol and GB28181 standard,compatible with mainstream brand front-end camera,encoder,network DVR,matrix and other access; support ONVIF or private SDK protocol access,support local area network or wide area network [active access and P2P mode] Networking;
« Support multi-terminal connection
The system also supports B/S and C/S modes,providing computer-based and IOS and Android client programs.
« Detection of equipment operating status
Detection of IPC,DVR,NVR and other equipment connection status,visual display equipment online,offline and prompted the reasons;
« Perfect log management
Rich server log information,you can quickly troubleshoot problems through the log to ensure the stability of the system operation,the need to reduce the trouble of technical support;
« Remote server configuration
The system administrator can manage the centralized monitoring system through IE in any place where the Internet can be accessed,the operation is simple and powerful; the administrator can monitor the running status of the equipment through the remote,modify the parameters of the equipment;
« Memory self-opening function
After the sudden power failure,the device automatically maintain the working state before the power off automatically,without human operation start button;
« Design of industrial high - density chassis
1U standard rack cabinet. Advanced chassis design process,the use of intelligent cooling system to effectively reduce noise pollution,to create a box of constant temperature space,full shielding anti-electromagnetic radiation,anti-interference,anti-static (EMI) design for a variety of application environments.
[ Specifications ]
Parameter / Model

JSA-6NVRLCMS512I64O

JSA-6NVRLCMS1KI780O

JSA-6NVRLCMS2KI780O

JSA-6NVRLCMS4KI780O

Basic parameters

Processor

High-performance 64-bit processor

operating system

Linux

Stream type

H.264/H.265 Limited stream or variable stream

Transmission rate

64Kbps~12Mbps/Channel

Equipment performance

Management ability

512/Channel

1024/Channel

2048/Channel

4096/Channel

Forwarding capability

≤64Mb

≤780Mb

≤780Mb

≤780Mb

Storage capacity

-

-

-

-

Decoding capability

-

8-16Channel[≤32Mb]

-

-

System

Business module

Remote management, PTZ control, two-way intercom, log query, integrated CMS / LAN, remote management, PTZ control, two-way intercom, multi-screen browsing, automatic round robin, video storage, historical playback, alarm linkage, TV wall management, device cascade, user management, DAS / MTS / SS four system services

Video parameters

Video format

PAL,NTSC

Decoding resolution

4K,1080P,1080i,720P,D1

Image adjustment

Brightness, chroma, contrast, saturation

Compression standard

Video:SVAC,H.264,H.265/AVC,MPEG-4,MJPEG Audio:G.71

Coded frame rate

1/16~25fps(PAL);1/16~30fps(NTSC)

I/O

Network Interface

100/1000Mb*1

USB interface

2×USB 2.0

Network

Network protocol

End-to-end delay

Digital compression encoded video within 200ms

Other functions

Safety

Password authentication

0SD parameter

Support

Embedded WEB

Support

Configuration mode

Local,Web

Upgrade method

Support for local upgrades and remote upgrades

Client

PC Client

Support

Web Client

Support

Mobile client

IOS and Android

Management

User Management

Support for user privilege grouping rights management,login authentication management.

Equipment management

Support for front-end digital devices, HD-SDI, analog device configuration management functions, support for TV wall management functions.

Storage management

Supports management of storage devices.

Log management

Record the device operation log, the device alarm log, and provide the query function.

Other

Power supply

110V ~ 240V, 47Hz ~ 63Hz; 220W server single power supply

Equipment size

1U 420mm[L]×430mm[W]×45mm[H],support the rack rail

Equipment weight

10KG

Temperature

Work: 5 ℃ ~ 40 ℃ Storage: -20 ℃ ~ 70 ℃

Humidity

Work: 20% ~ 80% RH (no icing, no condensation) Storage: 5% ~ 95% RH (no icing, no condensation)

With 14 years[2005~2019] of accumulated precipitation